Cleansing Tablets
We recommend the use of the NaturDent Cleansing Tablets to achieve the perfect cleaning result. Due to the pH9 care formula dentures are cleansed gently without abrasion. The unique formula is soft & smooth on metal & acrylic parts. Furthermore it prevents from discolouring and takes no time for cleaning.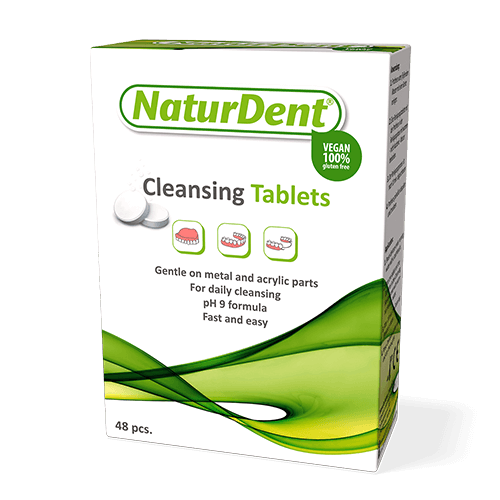 NaturDent Cleansing Tablets 48 pcs.
The power of pH9:
Remove easily all non water-soluble residues of the NaturDent Denture Adhesive
Prevents corrosion of metal and acrylic parts
Prevents your dentures from discoloring
Keeps dentures and orthodontics devices clean and smooth
Remove plaque even better that a toothbrush
Prevents bad odour
For daily use


How to use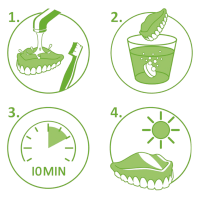 Brush denture under runnig water with a toothbrush
Drop one tablet into a glass with warm water. Don't use boiling water.
Soak denture or brace in the solution for at least 10 minutes.
Rinse denture under running water. Dry thoroughly before applying NaturDent Denture Adhesive.
Caution: Keep tablets out of reach of children. Do not put tablets in mouth.
Helpful hints
Main errors in cleaning dentures:
Toothpaste creates micro scratches in the material, which collects bacteria. This may cause unpleasant odors and discoloring.
Bleaching materials will break down the material of which they are made. It will also whiten the areas of the appliance that are colored to mimic real gum tissue.
Over-soaking metal and acrylic dentures especially those with soldered joints. It is more likely to corrode the metal if dentures over-soak from storing them over night to clean.